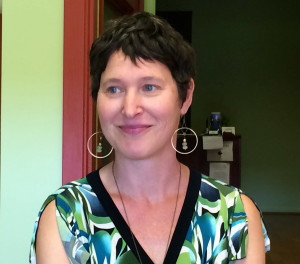 I first became interested in shiatsu and Chinese medicine in the early 90s when an injury I had didn't respond to conventional Western medicine. I was living in Japan at the time, so while there I studied shiatsu, Japanese acupressure massage, with a Master practitioner. Both shiatsu and Chinese medicine have the same roots and are based on the same principles of "qi," or vital energy, and meridians, the channels of "qi" throughout the body. I decided to return to the US to study acupuncture and Chinese medicine and received my Master's in Oriental Medicine (M.A.O.M) from the Oregon College of Oriental Medicine.
My continued interest in Chinese medicine stems from a desire to offer a safe and effective form of medicine. Having experienced the remarkable effects of Chinese medicine both as recipient and practitioner, I am constantly impressed by its ability to facilitate healing. Unlike pharmaceutical drugs, whether over the counter or prescription, it doesn't "add" anything to a person's system; yet people get better from a wide variety of complaints, ranging from low back pain to insomnia and headaches. Moreover, instead of having the adverse effects that many medications do, it often has positive side effects that improve a person's overall health and well being.
In my career, I have given numerous talks on Chinese medicine in Oregon at various senior communities, including Courtyard Plaza, Heights at Columbia Knoll, Summerplace, and others. In fact, a few years ago I had the honor of presenting at the Oregon Geriatric Society's annual conference sponsored by OHSU at Sunriver. I was the only non-allopathic presenter at the conference. I have also presented as part of New Season's Wellness Classes, an educational series that focuses on well being by living a healthy life.
2016 will mark our 9th year at Montavilla Community Acupuncture. I have personally welcomed and treated well over 1,000 people since we opened our doors and I look forward to treating many more. It is an honor to be part of my community. Moreover, I  spent 4 years on the Executive Board of the Montavilla East Tabor Business Association (METBA/http://metba.org), am a member of the Montavilla Food Co-op (http://montavilla.coop), and believe in striving to make our neighborhood the best it can be for resident and business owner alike.
I not only work here, but live in the Montavilla neighborhood, too, with my husband, Arnon, a blacksmith who owns Bridgetown Forge (www.bridgetownforge.com), and my daughter, Lilith.  We can often be seen around the neighborhood walking our dog, riding our bikes, visiting the Farmer's Market, or playing in the park.
Techniques/modalities offered (some are only available for individual sessions):
Acupuncture (Chinese and Japanese styles)
Chinese Herbs
Cupping
Guasha
Micro-current and electro-stimulation
Shiatsu / bodywork
Liniments, Chinese herbal massage oils
Nutrition/dietary counseling